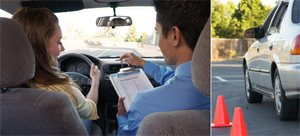 Advanced driver training from Club Auto is the ultimate 1 day overview on protecting yourself and your vehicle on the road. You will understand the handling dynamics of the vehicle you drive everyday because we use your vehicle!
Our driver training program has been specifically designed to enhance and improve driver safety. The content of the courses is based on the very best of international driver training courses and tried and proven techniques, with an emphasis on the challenges that younger drivers may find themselves in.
The principal emphasis is in developing useful and practical skills and in improving the driver's Knowledge, Skill and Attitude in the operation of their vehicles. Our nationally based trainers have a vast level of experience. Head Trainer, Stuart Roddick, was the content design consultant to the Accident Compensation Corporation for the highly successful ACC/Peter Brock television commercials.
The Club Auto Advanced Driver Training course is provided by Advanced Driving Systems (NZ) Limited.
---


---
Benefits:
Safer roads
Discounted course pricing
Lower blood pressure for parents
Unique course structure based on younger drivers
Lower insurance premiums